Bookshelf: Catalog of books published by EditPros LLC
Titles are listed chronologically by date of publication.
I Can Breathe Clearly Now:
Protecting Yourself From Air Pollution
By Thomas A. Cahill
Author Thomas A. Cahill, an internationally recognized physicist and atmospheric scientist from the University of California, Davis, applies the best current science in exploring serious, even lethal, health threats ignored by air pollution agencies. Written for non-scientists and spiced with humor and previously untold stories, this book also exposes other widely exaggerated threats that in fact are not serious.
Cahill gives readers the tools enabling them to reduce their risk of exposure to contaminants. No one but Cahill could have written this book, because he has been pivotal in environmental pollution for five decades. His groundbreaking research findings have influenced landmark health-protection policies — as well as rankled inflexible bureaucrats, corporate executives and even two U.S. presidents.
Through meticulous measurements and analysis, Cahill and his students played a key role in mandating automotive catalytic converters in California, helped prevent a coal-fired power plant from polluting the Grand Canyon, and forced unwilling federal agencies to adopt measures to protect workers at the site of the collapsed World Trade Center. Cahill now is tracking Greenland ice cap aerosols and climate for the National Science Foundation, and the Department of Justice has commissioned him as a consulting expert for a massive toxic cleanup in Los Angeles.
MORE DETAILS AND ORDERING INFORMATION.
Where Have All the Pop Stars Gone?
Volume 3
By Marti Smiley Childs
and Jeff March


Where Have All the Pop Stars Gone? Volume 3 celebrates talented singers and band members who reached the pinnacle of popularity between the 1960s and '80s. Through conversations with performers and family members, we share fascinating behind-the-scenes glimpses into the lives of these musicians and singers:
ANNE MURRAY, a four-time Grammy Award winner whose 80 pop, country, and adult contemporary chart singles included "Snowbird," "You Needed Me," and "You Won't See Me";



B.J. THOMAS, whose chart-topping hits included "Hooked On A Feeling," "(Hey Won't You Play) Another Somebody Done Somebody Wrong Song" and the Oscar-winning "Raindrops Keep Fallin' On My Head";



BILLY JOE ROYAL, who recorded 1960s pop favorites "Down in the Boondocks" and "Cherry Hill Park," and 1980s country music hits "Burned Like A Rocket" and "Out Of Sight And On My Mind";
And members of four brilliant bands:


Buddy Buie, Barry Bailey, Dean Daughtry, J.R. Cobb, Paul Goddard, and Rodney Justo of the ATLANTA RHYTHM SECTION, whose 1970s hits included "So In To You," "Imaginary Lover," and "Do It Or Die";



Arthur Lee, Johnny Echols, and Michael Stuart-Ware of the band LOVE, who recorded "My Little Red Book," "7 And 7 Is," "Alone Again Or" and the masterpiece Forever Changes album;



Larry Tamblyn and John "Fleck" Fleckenstein of the STANDELLS, known for "Dirty Water," the anthem of Boston pride, and "Try It," which provoked a nationwide controversy about lewd lyrics; and



Chuck Negron and Floyd Sneed of THREE DOG NIGHT, who recorded 21 consecutive top 40 hits, including the No. 1 smashes "Mama Told Me (Not To Come)," "Joy To The World," and "Black And White."




More
DETAILS and ORDERING INFORMATION
.
Jesus, the God Within:
Foundations of a Forgotten Faith
By Daniel L. Wick


The Jesus most people think they know is not the Jesus of history, according to intensive scholarly analysis that international award-winning historian Daniel L. Wick has conducted. His new book Jesus, the God Within: Foundations of a Forgotten Faith, focuses on the human Jesus of history rather than the divine Christ of faith. Wick reveals how people in that ancient time sensed, felt, thought and worshipped. Only in the context of that vanished world can Jesus and his followers be properly understood.
"This is the most important book on Jesus you will ever read," wrote Richard N. Schwab, professor emeritus of history at the University of California, Davis. Wick recreates Jesus' ancient world using a variety of novel historical methods that depart sharply from the often flawed approaches that led previous scholars to make fallacious assertions.
Jesus, the God Within presents revelations that bring new clarity to interrelationships that previously were obscured, ignored or incorrectly interpreted. This scholarly work presents a much-needed secular interpretation of the deep context of Jesus' emotional and intellectual world. After reading Jesus, the God Within, you will never be able to view the world in which Jesus lived and taught as you did before. By accompanying Wick on this intellectual journey, you will develop a greater appreciation of the enormous complexity of that ancient world, and a heightened admiration for the religious genius that Jesus surely was.
Reckoning at Sea
Eye to Eye With a Gray Whale —
A 12-Year Circumnavigation


By Max J. Young
with Marti Smiley Childs and Jeff March
Max Young was sailing alone on June 12, 2012, on a northerly course through moderately choppy swells 60 miles off the coast of Baja California, Mexico. He was bound for San Francisco, heading home with only 490 miles remaining on the final leg of a remarkably adventurous 36,600-mile circumnavigation of the globe that he had begun at a leisurely pace 12 years earlier. Alone with his thoughts, Young was contemplating the vastness of the sea and the expanse of the heavens as stars poked pinholes of light through the shroud of a dark, moonless night.
Without warning, a gray whale that likely had been feeding in the depths below breached and landed with full force on the portside stern of the sailboat, causing irreparable damage. The tremendous impact had cracked the hull. As the hours agonizingly ticked away while his sailboat, Reflections, slowly sank, Young had his reckoning at sea as he contemplated the nightmarish end of his lifelong dream of sailing around the world. A freighter rescued him minutes before his sailboat sank thousands of feet to the bottom of the sea.
Young describes his circumnavigation journey in detail in Reckoning at Sea: Eye to Eye With a Gray Whale.
MORE DETAILS and ORDERING INFORMATION.
Within My Grasp
A Double Amputee's True Story
By Mike Penketh

with Marti Smiley Childs and Jeff March
American Airlines Captain Mike Penketh maintained a perfect safety record while flying passengers, but on his own time he got his adrenaline rushes by mastering aerobatics and flying in competitions. He raced his homebuilt Pitts S-1 biplane in the Reno Air Races. In his quest for speed, he miscalculated only once — and he paid dearly.
Trauma surgeons were forced to amputate Mike's hands following a horrific accident that nearly killed him. Although the course of his life was unalterably changed, he was determined against all odds to fly airplanes again. He culminated two years of preparations when he successfully demonstrated for doubting FAA examiners his ability to fly an aircraft using electronic prosthetic hands.
The FAA reinstated his pilot's license and, while he never flew Boeing 737s again, he went on to perform intricate maneuvers in aerobatics shows to prove to himself and the naysayers that he could do it. Mike, working in collaboration with Marti Smiley Childs and Jeff March, tells his story in Within My Grasp: A Double Amputee's True Story. It is an inspirational autobiography about the challenges of coping with a disability, and learning how to focus on what you can do, rather than what you cannot do.
Where Have All the Pop Stars Gone?
Volume 2

By Marti Smiley Childs
and Jeff March
Where Have All the Pop Stars Gone? Volume 2 contains authorized true-life memoirs of musical soloists and band members whose songs hit the top of the music charts beginning in the 1960s. Through conversations with those performers, as well as producers, managers and family members, we share fascinating behind-the-scenes glimpses into the lives of these creative, talented people.
Where Have All the Pop Stars Gone? Volume 2 includes chapters on seven musical groups and solo performers:
THE BUCKINGHAMS, a Chicago-bred quintet whose songs include the chart-topping hit "Kind of a Drag" and the top-10 songs "Don't You Care" and "Mercy, Mercy, Mercy";



BOBBY GOLDSBORO, a country-pop singer-composer who is best known for his gold record "Honey," and whose hits also included "Little Things," "It's Too Late," and "Summer (the First Time)";



THE MOODY BLUES, the phenomenal band that brought rock music to an unprecedented level of sophistication with the groundbreaking concept album Days of Future Passed, and whose 20 chart hits included the top-10 singles "Go Now," "Your Wildest Dreams," and the gold record "Nights in White Satin";



DONNIE BROOKS, whose three chart singles included the top-10 hit "Mission Bell," and whose later work as a promoter into the early 2000s kept an innumerable number of '60s performers working on stage;
SAM AND DAVE, whose frenzied live performances established them as the most electrifying duo in the history of rhythm and blues music and earned them the appreciative nickname "the Sultans of Sweat." Their top-selling hits included "Hold On, I'm Comin,'" "I Thank You," and the gold record "Soul Man";



RAY STEVENS, a prolific composer as well as singer and producer whose repertoire encompasses comedic novelty tunes, ballads and "message" songs, including the top-10 hit "Ahab the Arab" and gold-certified "Gitarzan," "Everything Is Beautiful," and "The Streak"; and



THE GRASS ROOTS, one of the early progenitors of folk-rock whose sound evolved into blues-influenced pop, and whose 21 chart singles included the top-10 hits "Let's Live For Today," "Sooner or Later," and the gold record "Midnight Confessions."
Where Have All the Pop Stars Gone? Volume 1
By Marti Smiley Childs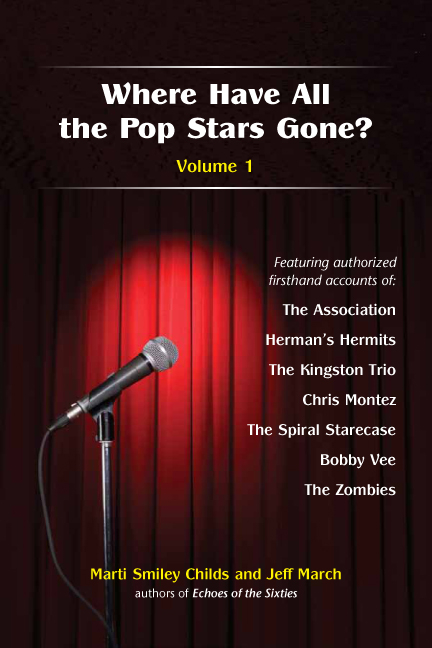 Where Have All the Pop Stars Gone? Volume 1, published in July 2011, chronicles the lives of musical soloists and band members whose songs hit the top of the music charts in the late 1950s and in the '60s.
Where Have All the Pop Stars Gone? Volume 1 includes chapters on seven musical groups and solo performers:
THE ASSOCIATION ("Cherish," "Windy" and "Never My Love");



HERMAN'S HERMITS ("Mrs. Brown, You've Got a Lovely Daughter," "I'm Henry VIII, I Am" and "There's a Kind of Hush");



THE KINGSTON TRIO ("Tom Dooley," along with "Where Have All the Flowers Gone" and "Greenback Dollar");



CHRIS MONTEZ ("Let's Dance," "Call Me" and "The More I See You");



THE SPIRAL STARECASE ("She's Ready," "No One For Me To Turn To" and the smash hit "More Today Than Yesterday");



BOBBY VEE ("Take Good Care of My Baby," "The Night Has a Thousand Eyes" and the million-selling "Come Back When You Grow Up"); and



THE ZOMBIES ("She's Not There," "Tell Her No" and the gold record "Time of the Season").
Echoes of the Sixties
Digital (e-book) version
By Marti Smiley Childs
and Jeff March
Echoes of the Sixties, the first book by EditPros co-owners Marti Smiley Childs and Jeff March, has been reissued in digital form. Preserving the original 1999 book manuscript, the e-book version of Echoes of the Sixties consists of 12 chapters, each focusing on a musical group or solo artist who first achieved popularity in the 1960s.
Every chapter begins with an essay documenting the recording achievements of each band or soloist, followed by individual biographies examining the lives of each of the 43 featured performers. The book contains photographs of the musical artists with whom we had wide-ranging conversations, showing them as youths and as mature adults.
Organized chronologically, Echoes of the Sixties includes chapters about:


THE FIREBALLS, with vocalists Chuck Tharp and Jimmy Gilmer ("Sugar Shack");



GARY "U.S." BONDS ("Quarter To Three");



THE TOKENS ("The Lion Sleeps Tonight");



THE ANGELS ("My Boyfriend's Back");



PETER AND GORDON ("A World Without Love");



MIKE PINDER of the MOODY BLUES ("Nights In White Satin");



THE BEAU BRUMMELS ("Laugh, Laugh");



SAM THE SHAM AND THE PHARAOHS ("Wooly Bully");



THE LOVIN' SPOONFUL ("Summer In The City");



GARY PUCKETT AND THE UNION GAP ("Lady Willpower");



COUNTRY JOE AND THE FISH ("I-Feel-Like-I'm-Fixin'-To-Die Rag"); and



IRON BUTTERFLY ("In-A-Gadda-Da-Vida").
The Testing Ground — The Journey

Volume 2 of the Testing Ground Trilogy
Louis Evan Grivetti and
Sargent Thurber Reynolds


Reese and Travis Saunders, a married couple who had lived their childhoods during the fading years of the Dark Time, found themselves the sole survivors of a mysterious epidemic that had claimed the lives of everyone else in their isolated Montana settlement — and, as they later discover, throughout much of the North American continent.
"Why were we alive?" Reese wondered. Neither she nor Travis had any answers, so they set out on a quest to learn the truth. In this continuation of the saga that began with The Testing Ground, Volume 1 — The Cave, the couple leaves their home in the Big Hole Valley of Montana to search for survivors. On horseback, river passage, and on foot they make their way across the continent, following the headwaters of the Missouri River to the junction with the Mississippi River, then pressing on farther east.
On their journey they encounter small groups of survivors who relate stories of survival hardships — accounts that epitomize human dignity in the face of terrible ecological and health-related disasters. Ultimately, the travelers are confronted with an unexpected reality: extraterrestrial inhabitants have settled in northwestern North America, and humans are not the only bipeds that occupy The Testing Ground.
The Testing Ground — The Cave
Volume 1 of the Testing Ground Trilogy
By Louis Evan Grivetti and
Sargent Thurber Reynolds
Searching for an inhabitable planet, crew members of the KosMa ExPlorer discover an uncharted orb similar to their distant home. During regional exploration, they discover a cave containing materials documenting the history and apparent demise of intelligent bipeds. These reports cryptically describe the planet's sequential life forms, from simple to complex civilizations.
All these life forms were created by the Great Spirit Etowah, a cosmic force that assigns an Observer and Overseer team to impassively record, evaluate, and recommend continuation or extermination cycles. One document contains an explicit warning from Etowah to the orb bipeds: abide by my seven commandments, or else suffer extermination. An expansive memorandum chronicles a sequence of events when a computer-hacker terrorist implements a plan that succeeds far beyond his expectations to bring down the American banking and economic system. Subsequent events spiral wildly out of control, initiating hunger, thirst, and anarchy among survivors. Unimaginable chaos follows. Unique individual and communal survival strategies develop at various isolated settlement groups.
During the difficult recovery phase, some bipeds continue to ignore Etowah's commandments. Will the actions of these few trigger a final catastrophic mass extinction of the bipeds? Is the unnamed orb merely a convenient cosmic setting for Etowah's amusement, a "testing ground" on which life forms are created, managed, and eliminated, and where cyclical patterns reflect cosmic indifference? What is the future of the orb's bipeds: survival or extermination?
Ark: Post-Asteroid Eden
Book 3 of the Ark Asteroid Trilogy
By Thomas A. Cahill
In the aftermath of a cataclysmic collision of an immense asteroid with the Earth, amid a decimated environment pummeled by the ravages of worldwide tsunamis, volcanic eruptions and impenetrable ash clouds, most forms of life succumbed. Yet out of the rubble of the scorched, scarred, frozen planet, a few groups of human stragglers managed to survive by seeking and improvising shelter.
As survivors salvaged equipment and fuel at sites that had been buried under snow and debris, they developed capabilities to generate electricity, restore vehicles, communicate by radio, build sailing ships and restore and fly aircraft. They carefully nurtured remnants of mammal, marine, avian and plant life that they found. As they did, they discovered more about what had happened to the Earth — how the rupture in the crust of the Earth had unleashed a toxic acidic volcanic soup that had made the oceans inhospitable to sea life, destroyed much of the Amazon rain forest, and triggered a new ice age that had been slowly transforming much of the planet into a frozen wasteland.
Yet a decade after the asteroid impact, a decline in volcanic activity loomed as a bright spot on the horizon. As volcanic eruptions decreased in intensity and frequency, the sunlight that began to penetrate the thinning ash clouds stimulated early signs of recovery. And although conflicts and power struggles still beset some groups of people, most humans remained united in their common quest to create civilization anew. But their best intentions appeared threatened when the world's largest super volcano began smoldering with increasing ferocity, signaling an eruption that this time could annihilate the human race.
Greenhouse Redemption of the Planet Kraal
By Thomas A. Cahill
Everything in this tale could happen ...
Many things in this tale will happen ...
Some things in this tale have happened ...
Cloning a human for the planet Kraal's cosmic zoo probably seemed like a good idea at the time. As an old and technologically advanced civilization, the inhabitants of Kraal had the capability to launch an interstellar vehicle, land a probe on Earth, extract DNA from a human subject, and transmit his genetic data to Kraal, 6.2 light years from Earth. The members of Kraal's unscrupulous ruling elite masterminded the mission of duplicating a human from a DNA imprint for a self-serving purpose. They conceived the project as a way to distract Kraal's citizens from a looming ecological disaster that their mismanagement of Kraal's natural resources had provoked. The resulting runaway greenhouse effect already had devastated most of their world.
Despite intricate planning and elaborate controls, the human specimen, Rick, breaks away from his slanted psychological training and his powerful masters, and challenges the assumptions that are destroying the planet. His success triggers brutal suppression, prompting the previously submissive populace fascinated with the human to arise in revolt. In the process, the masses learn the dark secret about the looming planetary disaster. Kraal's attempts to recover something of its past ecology becomes, deliberately, a challenge to Earth, which is staggering closer to a tipping point in its own impending greenhouse climate collapse.
MORE DETAILS and ORDERING INFORMATION.
Little Shadow


By S.L. Schultz
June 1991. A small town in the American heartland. A painting falls off the wall of the Becker family homestead. Drawing upon folklore, the matron interprets this event as a sign of impending death. The fleeting appearances of angels bear witness to the omen. Someone within the family circle will die over the next few days. Who will it be? Bagwell, a Marine sniper, has just returned home from the first Gulf War wounded and shell shocked. On the day of his injury, he received a "Dear John" letter from his wife, Brenda, who has taken up with his best friend, James. Emotionally distraught, Bagwell imagines their heads in the crosshairs of his rifle.
Could this love triangle prove deadly to one of them? Or could it be Peter, inching his way out of the closet for the first time? His fugitive partner, Todd, fresh from filming Boy Toy #65, pulls Peter into the dark world of pornography. Maybe Peter's controlling father, Martin, will die, still devastated by the brutal murder of his wife ten years before. Or could it be Martin's brother, Sammie, struggling with the dark reminders of his combat duty in Vietnam? Could it be the child, Lily Rose, running blindly for safety, or the matron herself, fighting to alter the prophesy that the fallen painting has foretold? As thunderous storms roll across the landscape, tightly coiled tensions reach a breaking point.
MORE DETAILS and ORDERING INFORMATION.
Ark: Diaspora
Book 2 of the Ark Asteroid Trilogy
By Thomas A. Cahill
Four years had passed since a massive asteroid collided with Earth and triggered a global environmental disaster that obliterated nearly all forms of life on the planet. The impact flexed the ocean floor, causing monumental tsunamis that demolished coastal cities throughout the world. Colossal volcanoes incessantly belched out a veil of ash and sulfuric smoke that girdled Earth and deflected sunlight, causing a new ice age in which billions of people perished. In this forbidding world under an orange-tinged sky, a small group of survivors managed to scrape out an existence from limited resources at Halcyon on the coast of California, as the first book in this trilogy, Ark: Asteroid Impact, describes.
Amid crushed buildings buried in the snow that covered much of the Earth's surface, the survivors doggedly salvaged remnants for food and shelter, and pieced together the technological means to begin exploring the wounded world to see what else — and who else — may remain. They courageously rescued other isolated refugees who were facing starvation. As they communicated by radio, a Russian missile installation intercepted the transmissions.
In Ark: Diaspora, the Russians saw an opportunity to use thermonuclear weapons to assert world domination by reverting to Soviet-era dictums. On the anniversary of the Bolshevik Revolution, the canyons of the Central California coast rumbled and the sky erupted in an excruciatingly brilliant flash of light that jarred the pathetically few American survivors from their sleep.
MORE DETAILS and ORDERING INFORMATION.
Ark: Asteroid Impact
Book 1 of the Ark Asteroid Trilogy
By Thomas A. Cahill
Ark: Asteroid Impact is a gripping story about a band of Californians who take refuge and manage to survive the calamitous effects of the collision of a large asteroid with the Earth. The devastating impact shatters civilization and eradicates nearly all forms of plant and animal life on the planet. The book describes in vivid detail the survival struggles and ingenuity of refugees who find themselves marooned in the forbidding, barren, frozen environment that envelops Earth following the colossal impact.
The "Ark" in the title alludes to the quest of the survivors to rebuild civilization. They scavenge the meager resources at their disposal to improvise shelter from the punishing cold, to generate electricity, to supply food, and to devise means of transportation to search for a more suitable climate, as well as to find other survivors.
Thomas A. Cahill, an imaginative storyteller with a fertile mind, conceived this chilling saga within the context of scientific possibility, based upon the firm foundation of knowledge he amassed during five decades as an eminent physicist and atmospheric scientist. He meticulously researched the likelihood of events described in this book and his first book, titled Annals of the Omega Project — A Trilogy (see below).
MORE DETAILS and ORDERING INFORMATION.
Annals of the Omega Project — A Trilogy
By Thomas A. Cahill
This is a fast-paced thriller novel from the pen of Thomas A. Cahill, Ph.D., an internationally recognized scientist. Published under the EditPros LLC imprint in July 2012, Annals of the Omega Project — A Trilogy, describes what happens when a group of scientists investigating the beneficial powers of telepathic energy comes under savage attack by ruthless Coven members who subject their hapless victims to ancient mind-control techniques.
The story begins on an airline flight from Sacramento to Denver, when Professor Ken O'Neal discovers he has a telepathic and loving connectedness with flight attendant Michelle Kolberg. Believing that other " sensitives " probably exist in their midst, the two of them embark on the formation of a group of "like" minds they call the Omega Project at a University of California campus.
The Omega Project's benevolent communication is suddenly threatened by powerful people in San Francisco — older men in secret Covens who trap their telepathic victims and perform horrifically lethal "feedings" on their brains to enhance their own powers of domination. A "feeding" on the brain of a university student named Bonny ignites warfare between the Coven and Omega members, with gruesome fatalities.
MORE DETAILS and ORDERING INFORMATION.