Highest of Highs to Lowest of Lows
Before my diagnosis, I just assumed that I was a lunatic who was going to die in a ditch someplace. Without treatment, there was no winning with this illness.
Highest of Highs to Lowest of Lows:
My Battles With Bipolar Disorder
By MICHAEL KINYANJUI
How a young man came to terms with his bipolar disorder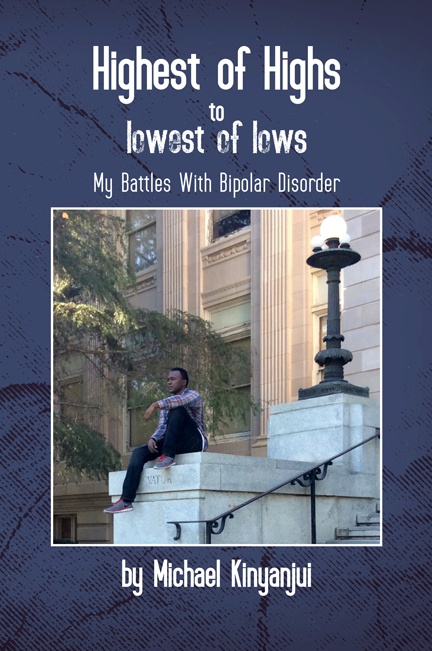 Throughout adolescence and early adulthood, the demons that had taken up residence inside Michael Kinyanjui's head hijacked his behavior. He had been a well-adjusted and only mildly mischievous child, but as a young man he unexpectedly yelled profanities at his boss, racked up a $30,000 debt in a reckless spending spree, and late one night intentionally wrecked his pickup truck in a high-speed crash, leading to his arrest. His erratic actions baffled him as much as he perplexed his family members and friends. Unpredictable mood shifts drove him on wild rides that carved serpentine paths from despair to charismatic joy, from desolation to creativity and academic achievement, as he teetered much of the way on the brink of self-destruction.
"I couldn't keep up with the mood swings, and I needed help," Michael said. "People knew me as two different people. When I met a new person, I was afraid of speaking to them again because the person they spoke to wasn't the same person they met the next time. I was trapped in my own nightmare that seemed endless, and when I tried to escape I was engulfed by my sadness and had nowhere to run."
The condition that had robbed him of his power of reason initially was misdiagnosed, resulting in ineffective treatment. Michael was 23 years old before his persistence to learn the truth about himself led to a conclusive diagnosis: bipolar disorder. The diagnosis itself brought him a measure of reassurance, knowing at last a reason for his unpredictable behavior.
After medical treatment restored stability in Michael's life, he began the introspective process of documenting his 10-year journey through hell and his subsequent recovery. That narrative constitutes Michael's first book, Highest of Highs to Lowest of Lows: My Battles With Bipolar Disorder, a gritty, brutally honest account describing the anguish that he endured. This insightful autobiographical work can help improve understanding of how bipolar disorder affects behavior. More importantly, Michael hopes it will encourage people puzzled about their emotions and behavior to seek professional help.
"My psychiatrist saved my life, whether she knows it, or not. She saved a life that was once pure but turned corrupt," Michael wrote. The 238-page book includes Michael's tips for concurrent self-help as well.
As Highest of Highs to Lowest of Lows: My Battles With Bipolar Disorder describes, depression is characterized by periods of apathy, loss of interest in activities, fatigue, and everything else that makes a person miserable. People suffering from depression may feel hopeless, worthless, unwanted. The feeling is often relentless.
Mania can manifest itself in numerous ways, including excessive exuberance, restlessness, euphoria, inflated self-confidence, racing thoughts, a magnified sense of optimism, increased sexual drive, insomnia and apparent decreased need for sleep. It sometimes can trigger drug abuse, uncharacteristic aggression or anger, unrestrained spending, or reckless driving. Michael exhibited many of those behaviors during his extended manic episodes.

The erratic behavior that people with bipolar experience can jeopardize their performance at school and work, can strain or destroy personal relationships, and, if untreated, can lead to suicide. While bipolar disorder usually is not curable, it is manageable.
Michael Kinyanjui writes in a casual, yet descriptive style that breathes life and emotion into his tales, painting a vivid and clear portrait of what his life was like as he struggled with his bipolar disorder. Equally enlightening and alarming, this book sheds light on what mental illness really looks like, as well as providing a helping hand to readers who may be in similar situations. Highest of Highs to Lowest of Lows: My Battles with Bipolar Disorder is a must-read for anyone looking to understand the tumultuous nature of bipolar disorder, as well as how to manage it and maintain bright optimism for the future.
— book review, Authors Talk About It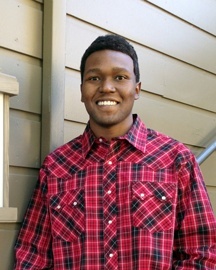 About the author
"Before the madness, I had a good life," Michael wrote. "My story began on the east coast of Africa, in a country known for marathon runners and tea. When people think of Africa, they either think it's a desert or a jungle with animals roaming everywhere, but what I remember was different."
Michael Kinyanjui was born in December 1993 in Kenya, where he survived typhoid and three bouts of malaria. He, his brother and his sister lived with their parents in a small town in an agricultural area where the most prevalent crops were corn and tea. After attending a school administered by Catholic nuns from Great Britain, Michael emigrated at age 11 to the United States with his family. They settled in Woodland, California, where a family friend was living. Speaking only Kiswahili when he enrolled midyear in the fifth grade, Michael learned English with remarkable speed and speaks with no trace of an accent.
He progressed well through middle school and into high school. By his senior year, however, he began exhibiting bipolar mood swings that became increasingly disruptive as he began studies at California State University, Sacramento, following his high school graduation. The book details the interim between then and his diagnosis. The stability that treatment enabled gave him the clarity of thought to seek a brighter future. Michael Kinyanjui plans to resume his college studies, with the goal of a career as a writer or teacher — or both.
Highest of Highs to Lowest of Lows: My Battles With Bipolar Disorder is available as a trade paperback through Amazon.com, Barnes and Noble and other online sellers. It also can be ordered through any retail bookstore.
Genres:

Self-help / Mood disorders / Bipolar disorder

Psychology: psychopathology-bipolar disorder
Publisher: EditPros LLC
Date of publication: October 2017
5.25 x 8 in., 238 pages;
ISBN-13: 978-1-937317-43-0

Available in the United States, Canada, the United Kingdom, Australia and other nations (at prices subject to exchange rate variations).
Distributed by Ingram Book Co., the world's largest book wholesale distributor, as well as Baker & Taylor, and NACSCORP.
It is available from local bookstores and from
For e-book readers
ISBN-13: 978-1-937317-44-7

Available in the United States, Canada, the United Kingdom, Australia and other nations (at prices subject to exchange rate variations).
From Amazon.com for Kindle readers
From Barnes & Noble for Nook readers
From Apple iTunes Store for iPad and iPhone (search by title from your device)
From the Kobo Store for Kobo readers