EditPros is based in the university town of Davis
— in the heart of Northern California.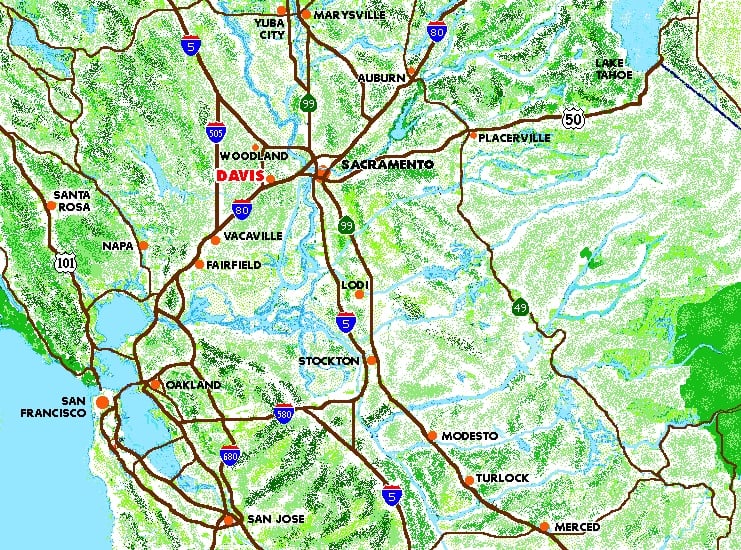 DAVIS is along Interstate 80, between Sacramento and the San Francisco Bay Area. The legendary Lincoln Highway passed right through town, four blocks from our office in downtown Davis.
Located in agriculturally rich Yolo County, this small city with 66,000 residents is home to the University of California, Davis, one of the world's most esteemed institutions of higher learning, with prominent teaching and research programs in the biological sciences, business, engineering, law, medicine, agricultural sciences and veterinary medicine.
Call us weekdays: 530-759-2000.

Top image: mural on the west wall of the Independent Order of Odd Fellows Hall, 415 Second Street, Davis. The mural depicts the Davis Arch, which spanned Second Street just west of G Street from 1916 until 1924, when it was demolished to improve automotive access.



We work with clients throughout California
Our research on behalf of clients makes frequent use of university resources, including one of the nation's finest research libraries incorporating unparalleled special collections of archival materials. Our clients who contract with us for proofreading, editing, writing and web content preparation services benefit from our decades of experience.
Several internationally prominent biotechnology firms, manufacturers of electronic devices, industry trade organizations and independent research institutes have established headquarters here. Davis, where two-thirds of the citizens are college graduates, has been ranked the most educated city in California.
EditPros serves Yolo, Solano and Sacramento counties, including the cities and communities of Davis, Woodland, Dixon, Winters, Vacaville, Fairfield, West Sacramento, Sacramento, Carmichael, Fair Oaks, Orangevale, Citrus Heights, Roseville, Rocklin, Lincoln, Rancho Cordova, Folsom, Cameron Park, El Dorado Hills, Placerville, Auburn, Grass Valley, Nevada City, Yuba City and Marysville.
We also perform writing, editing, proofreading and website content preparation for clients elsewhere in California, including the San Francisco Bay Area and Los Angeles, as well as in other states.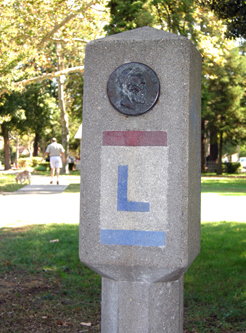 This original 1928 concrete marker identifies the route of the Lincoln Highway in downtown Davis. The Lincoln Highway, dedicated in 1913, was the first transcontinental automobile highway, connecting New York City and San Francisco. After establishment of the U.S. Highway System, the Lincoln Highway route through Davis was designated as part of U.S. 40.
(EditPros 2013 photo)